项目概况 Project Overview
鉴湖,是越文化的地标,是越地的超级符号,见证着时代的开拓与不断超越。
现在,我们盛情邀请全球规划师、建筑师、设计师,共同构建鉴湖"超越性"发展方案,共同谱写超越时空、超越想象、不断超越的"鉴湖新盛景"!
Jianhu (Jian Lake) acts as a cultural landmark and witnesses the development of the times, transcending itself unremittingly.
Under the background of a new era, we would like to invite global planners, architects, and designers,hereby to submit your "transcending" proposals along the lakeshore, thus to create a revived, prosperous Jianhu that transcends time and space, transcends imagination, carries and reveals the super Yue culture, and goes beyond it!
1 | 竞赛命题 Competition Name

「超 · 越|鉴湖新盛景」绍兴鉴湖概念规划与方案设计国际竞赛
「Beyond YUE|Jianhu Revival」Shaoxing Jianhu Planning and Design Competition
2 | 项目区位 Project Location
项目位于中国浙江省绍兴市柯桥区中部的鉴湖及两岸,是柯桥城区的重要组成部分。
2021年,在《柯桥区"十四五"城市空间总体规划》中,鉴湖两岸属于"中都市""南花园"的双重功能区。

The project is located in the middle of Keqiao District, Shaoxing City, Zhejiang Province, across both banks of Jianhu. It is an important part of Keqiao's urban area.
In the Master Urban Spatial Planning of Keqiao District During the 14th Five-Year Plan Period released in 2021, both sides of Jianhu are deemed as a dual-functional area characterized by "Middle City" and "South Garden".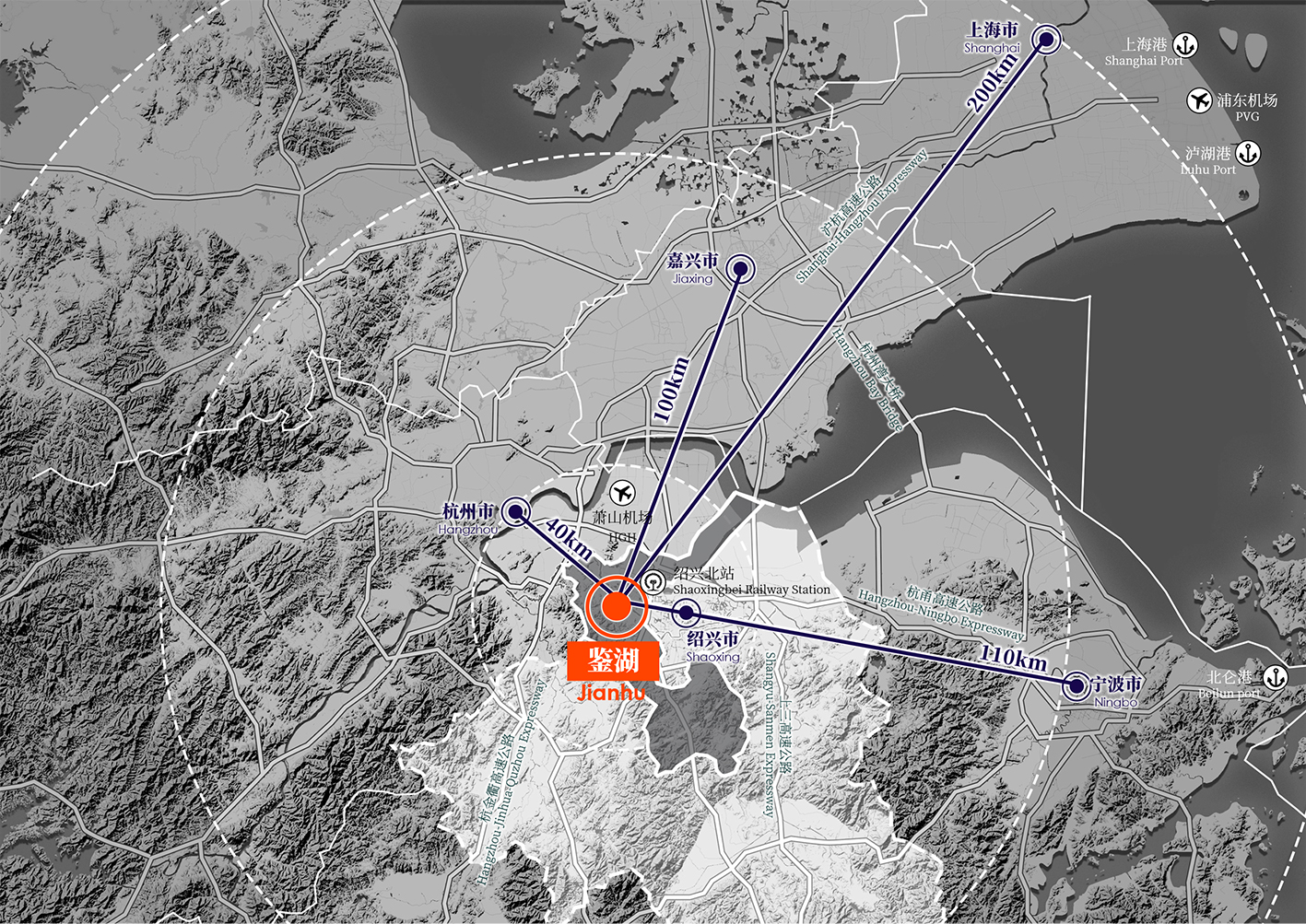 中国长三角视野下的鉴湖
Location of The Project Site in Yangtze River Dealt, China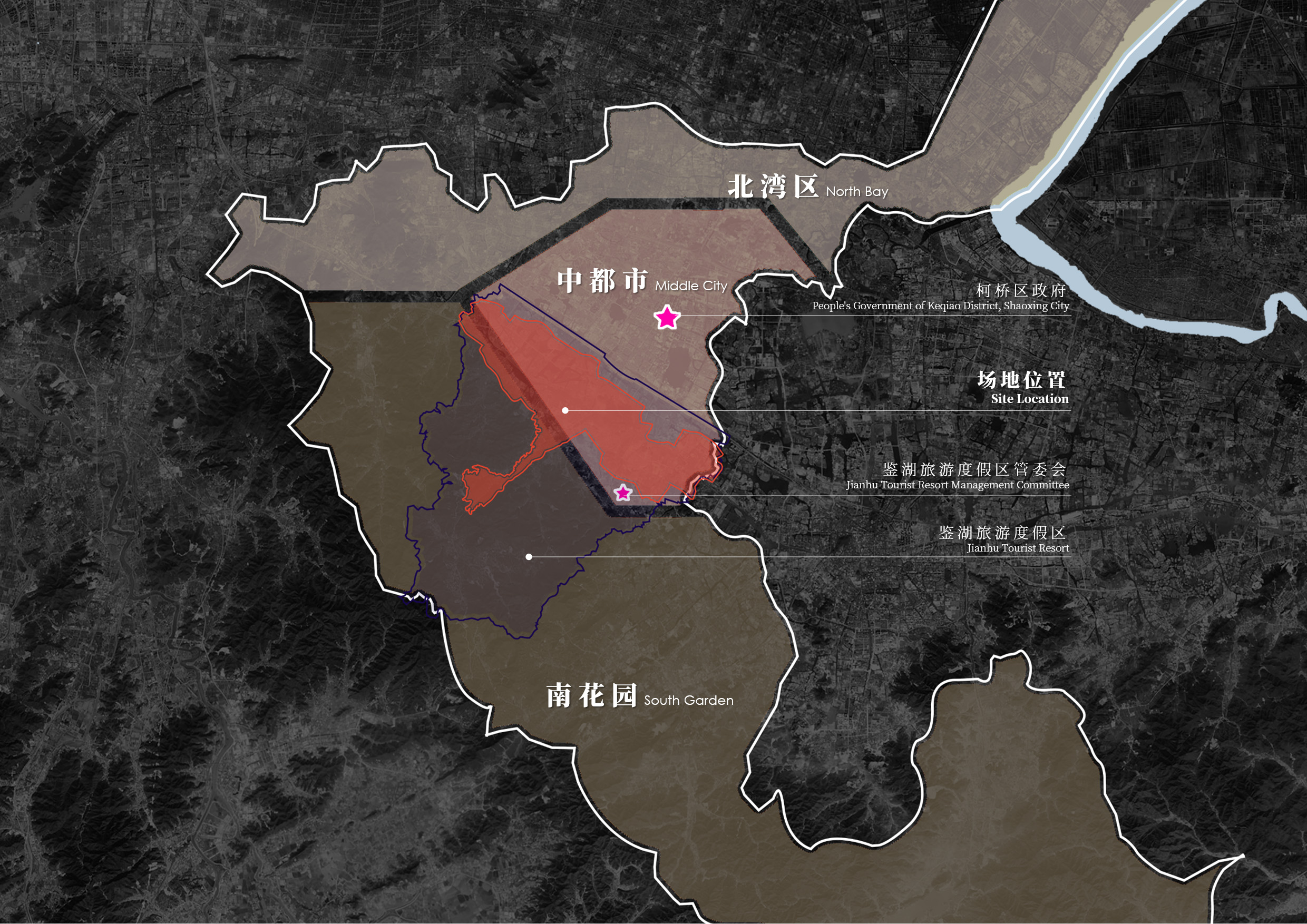 绍兴市柯桥区视野下的鉴湖
Location of The Project Site in Keqiao District, Shaoxing City
3 | 项目背景 Project Background
鉴湖,是越地的母亲湖。它是中国最古老的水利工程之一,是浙东唐诗之路的重要传播带,也是唯一的绍兴黄酒之源。
如今,鉴湖的精华段位于鉴湖旅游度假区。这里历史积淀深厚,也是绍兴市柯桥区的核心发展区块。在新时代发展背景下,如何利用现有空间、尊崇鉴湖精神,将鉴湖转化为多种界面皆可感知的城市品牌符号,描绘"鉴湖新盛景"的共同想象——这是一场"超越性"的议题,亦是生态文明和文化自信时代下的"新营城"观念的重要体现,并为中国城市文化地标在新时代下的全新发展模式探索提供了绝佳机会。

Jianhu is the mother lake of Yue region. It is one of the oldest water conservancy projects in China, an important communication belt of the road of Tang poetry in eastern Zhejiang, as well as the source of Shaoxing rice wine.
Nowadays, Jianhu has its essence lie in Jianhu Tourist Resort. With profound history, it is also the core development section of Keqiao District, Shaoxing. How to make use of the existing space, respect the spirit of Jianhu, transform Jianhu into a city brand and symbol with various interfaces, and depict the common picture of "Jianhu Revival". It is a "transcending" issue, and also embodies the "wisdom of new city operation" in the era of ecological civilization and cultural confidence, providing us with an opportunity to create a new development mode of Chinese cultural landmarks in urban development in the new era.
4 | 竞赛内容 Competition Content
本次竞赛分为概念规划和方案设计2个部分:
The competition includes two sections, which are conceptual planning and urban design.
1) 概念规划 Conceptual Planning
范围:位于鉴湖旅游度假区内,以鉴湖为核心,东西长12.6公里,总占地面积约35.4平方公里。涵盖黄酒小镇、酷玩小镇2个特色小镇,柯岩风景区、大香林 · 兜率天宫、乔波冰雪世界、东方山水乐园4个AAAA级景区,三佳村、湖塘村、宾舍村等传统村落,马臻纪念馆等重要旅游资源点,以及"鉴湖探源""古酒新歌""越梦幻岛""诗路前沿""跃动湖湾" "明玥柯岩""海山竞秀""艺绘金柯""香林悟境""未来水城"10大主题片区(详见《策划简本》)。
要求:尊崇鉴湖内涵,处理好山水与城市、文化遗产与现代产业、旅游度假与市民生活之间的关系,构建具有"超·越"特性的生态活力、文化张力、产业动力耦合的鉴湖空间。从宏观层面提出总体规划理念,构建总体发展模式、落实总体空间引导,营造公共开放空间,构建多元交通体系并提出总体实施计划。
Scope: It is located in Jianhu Tourist Resort, adopts Jianhu as the core and is 12.6 kilometers long from east to west, with a site area of about 35.4 square kilometers. It covers two characteristic towns—Rice Wine Town and Cool Wow Town; 4 AAAA National Tourist Attractions—Keyan Scenic Area, Daxianglin · Tusita Scenic Area, Qiaobo Ice & Snow World and Oriental Neverland; traditional villages such as Sanjia Village, Hutang Village, Binshe Village, etc.; plenty of significant sightseeing spots like Mazhen Memorial Museum; as well as 10 areas—"Jianhu Origin Exploration", "Ancient Wine New Songs", "Yue Dream Island", "Poetry Frontier", "Dynamic Lake & Mountain", "Glorious Keyan", "Haishan Show", "Art Woven Keqiao", "Xianglin Realm", "Future Watercity" (please refer to the General Planning Brief Version).
Requirements: The planning shall respect the connotation of Jianhu, coordinate the relationship between landscape & city, cultural heritage & modern industry, tourism & citizen life, and build a Jianhu space with "Beyond YUE" ecological vitality, cultural tension and industrial power coupling. It is necessary to put forward an overall planning concept at the macro level, construct the spatial development mode, implement the overall space guidance, create a public open space, build a diversified transportation system and propose the overall implementation scheme.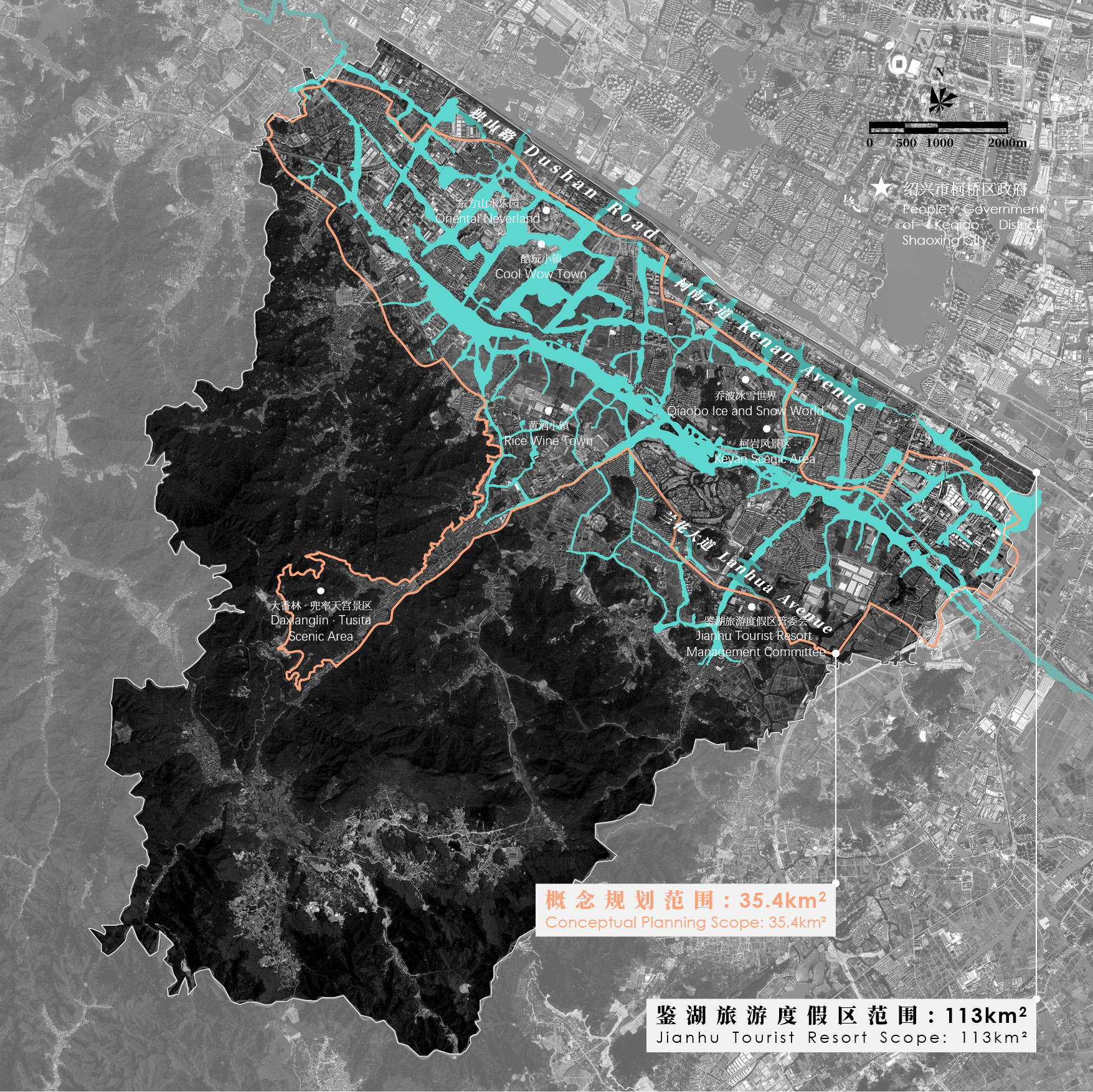 概念规划范围图

Scope of Conceptual Planning
2) 方案设计 Urban Design
范围:5个核心片区(必选)+3个其他片区,总面积共计15.0平方公里。其中,核心片区包括"鉴湖探源""古酒新歌""越梦幻岛""诗路前沿""跃动湖湾",共计9.79平方公里;其他片区包括"明玥柯岩""海山竞秀""艺绘金柯"。入围的参赛者将以抽签方式,从这3个片区中抽取1个片区进行设计。
要求:延续各片区定位,进行城市设计,塑造各片区特有的场景空间和风貌特色。具体包括各片区的功能业态细化、空间形态设计、公共开放空间提升等内容;同时,为彰显"鉴湖新盛景",结合空间布局和空间景观塑造需要,需选择一处进行"鉴湖之眼"门户性地标建筑概念设计(工作要求详见《技术任务书》)。
Scope: 5 core areas (compulsory) + 3 other areas (random draw), with a total area of 15.0 square kilometers. Core areas include "Jianhu Origin Exploration", "Ancient Wine New Songs", "Yue Dream Island", "Poetry Frontier", "Dynamic Lake & Mountain", covering a total area of 9.79 square kilometers. Other areas include "Glorious Keyan", "Haishan Show", and "Art Woven Keqiao". The shortlisted applicants shall select by random draw one of the three areas to design.
Requirements: Follow the positioning of each area, carry out urban design and shape the cultural space and features for each area. Specifically, it includes the refinement of the functional format of each area, design of spatial form, and improvement of public open spaces; At the same time, to manifest the characteristics of Jianhu, in combination with the needs of spatial layout and landscape shaping, a site should be selected to carry out the concept design of "The Jianhu Eye" as the gateway landmark building (please refer to the Technical Brief for work requirements).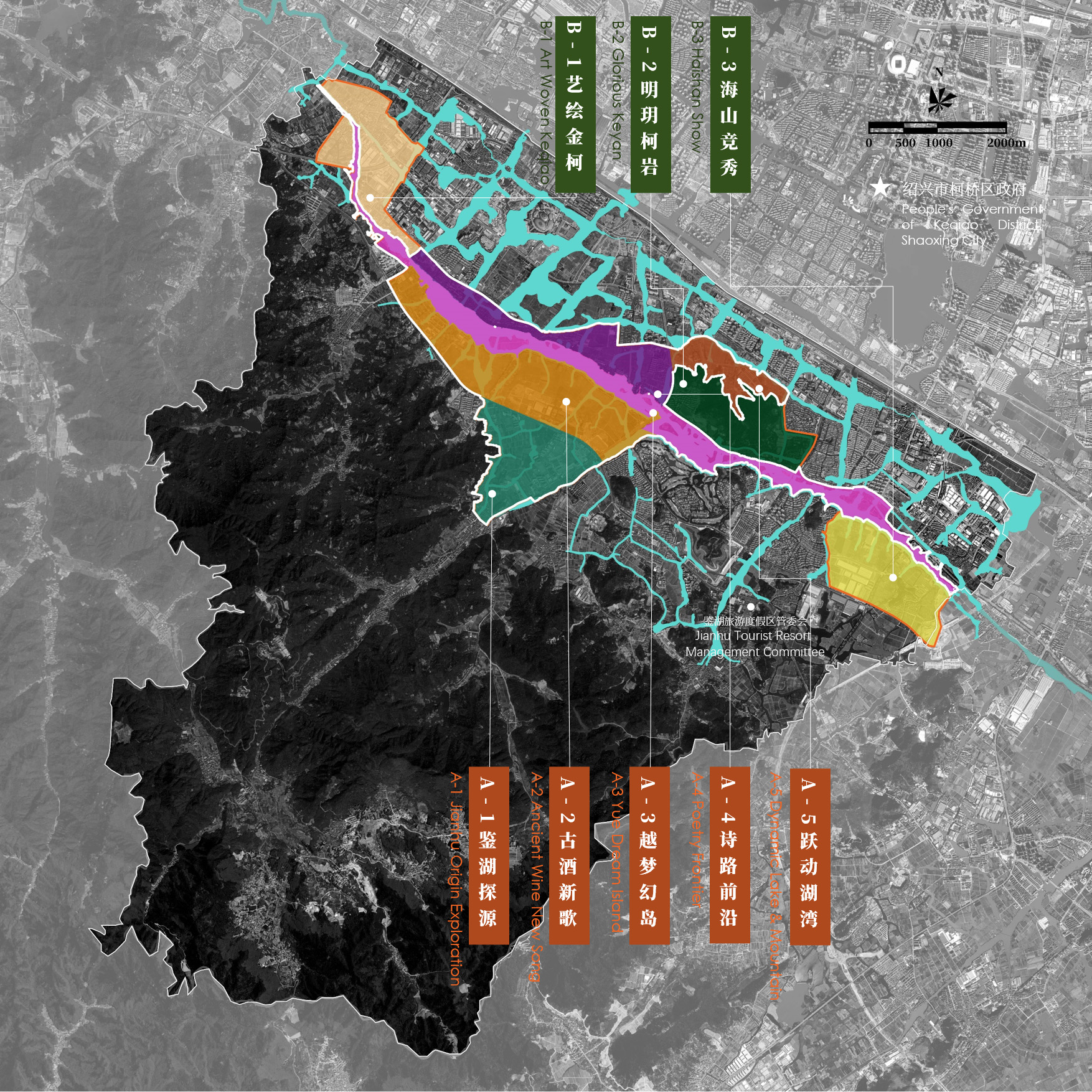 方案设计范围图

Scope of Urban Design

10大主题片区航拍视频
Aerial View of 10 Areas